Amanda DeGouttes
Marlon Paul Bruin is a Photoshop mastermind, establishing himself firmly within the Photoshop community of online competitions through the medium of  sites such as Photoshopfaceoff.  It was here his nickname was formed, The Kaleidoscope King. One cannot help but marvel at his creations, taking in the details found in every layer, upon deeper inspection you'll discover more within every twist and turn. Read this full interview on MAD ART Magazine....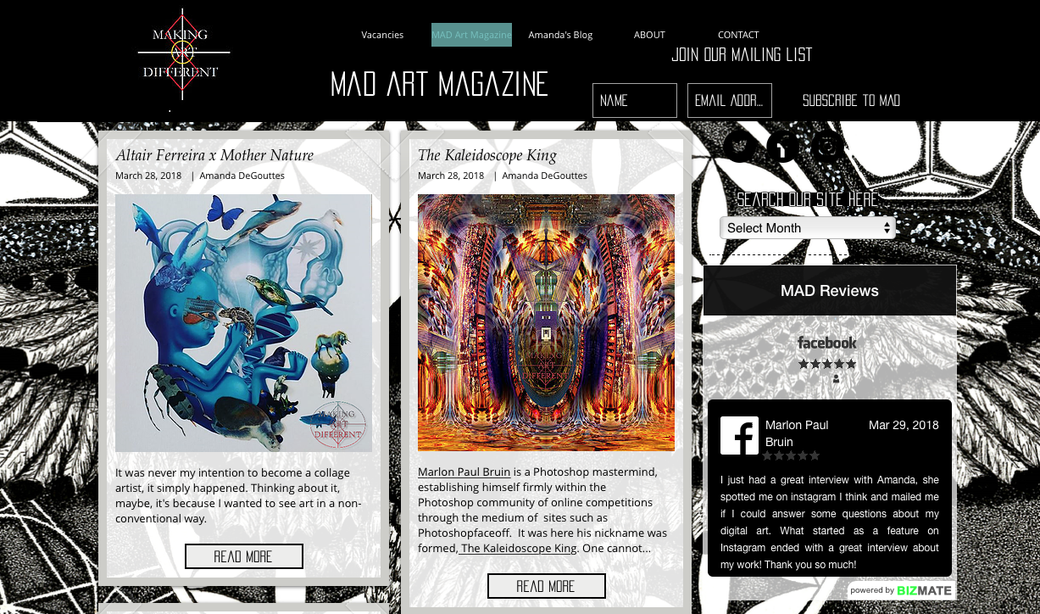 ---
On the 17th of January 2015 there was the opening + digital art seminar in the Art'Otel in Amsterdam.
---
The Lumen Prize Exhibition will be in Amsterdam from 09/01 - 30/01 2015 in the art'otel in the 5&33 Gallery - The seminar and opening party at the Art 'otel Amsterdam on January 17th.
---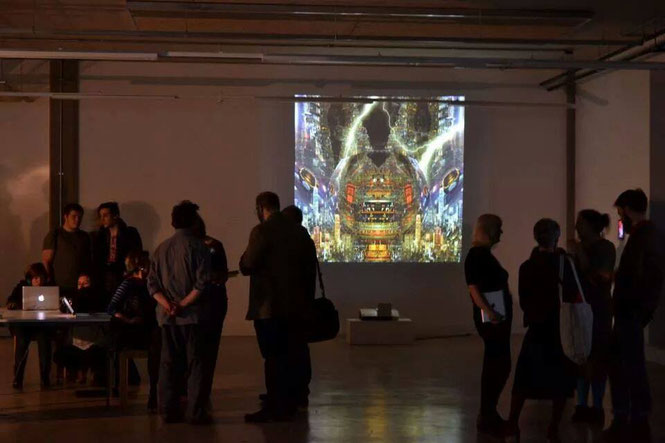 Great news!!! I'm one of the 25 chosen for the 2014 Lumen Prize Exhibition!!!
I am delighted to let you know that your work has been chosen by the Jury Panel to be among the 25 works chosen for the 2014 Lumen Prize Exhibition. This means your work will now go through to the final round of judging for the top prizes. It also means your work will travel to all our exhibitions this year - including Cardiff, New York City, Athens, and London. Many congratulations on your selection.
HONG KONG FUTURE: Hong Kong's urban nightscape is transformed into a science fictional universe. Mirrored images (identical on both sides) are a recurrent motif in the artist's work. He is fascinated by urban architecture and the built environment which often forms the core of his work. With digital image making tools he creates works which layer together colours, texture and lines in an unmistakable way that once seen, are hard to shake off. He makes fine art works that unsettle us like chimeras, influencing how we might see the actual city, surrealistically and cinematically, yet very much of this coming century. 
---

"Wide Open Digital 2" brings viewers the excitement of dynamic works across the full digital spectrum. The images here, which range in discipline from classic digital painting and photography to avant-garde algorithmic and glitch art, are nothing short of stunning.
This exhibit is wide-ranging and truly international, with 436 images by 80 artists from 17 countries. The judges selected 3 works to receive a GOLD STELLAR ART AWARD and 33 works to receive a STELLAR ART AWARD. All images in the show demonstrate excellence. It is a competitive show, and having even one image selected for inclusion is an honor.
I want to thank my fellow judges, both of whom are graphics professionals with long, ac-complished careers. As Art Director of Buddah Records, Elektra/Asylum Records, and 20th Century Fox Records, Glen Christensen was, for many years, a major figure in graphic design in the music industry. He has received two nominations for the prestigious Grammy Award, for Best Album Package. Gary Viskupic has, to his credit, an extensive body of work in editorial illustration, most of it rendered during his long tenure as an editorial artist at Newsday in New York. In addition, Gary's international freelance work has included many award-winning posters and illustrations. He has been recognized many times by such prestigious organizations as the Society of Illustrators, Graphis, The Society for News Design, and Print magazine. He is currently an instructor of illustration at New York Institute of Technology.
I am one of the STELLAR ART AWARD winners:
"King of the City"
MARLON PAUL BRUIN
Den Burg – Texel, The Netherlands
Computer-generated art
---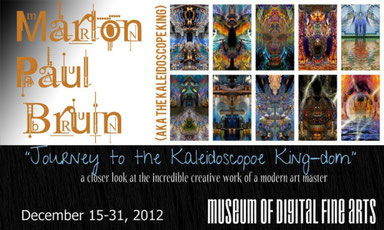 MODFA Solo Exhibition with Marlon Paul Bruin
Marlon Paul Bruin (aka the kaleidoscope king) is an emerging artist who is a brilliant photoshop pro who started his digital art adventure in cyberspace. He has definitely taken the electronic creativity with the Kaleidoscope graphic software tool to a whole different level, producing extraordinary fine art unlike anything you have ever seen! Now, take a magical ride through intricate worlds of fun and discovery with is first solo exhibition at the (MODFA) Museum Of Digital Fine Arts from December 15 to 31, 2012.
A magical ride through intricate worlds of fun and discovery!
These are just some of the immediate feelings you get as you peer upon the marvellous art of of Dutch artist, Marlon Paul Bruin (aka the Kaleidoscope King). You simple cannot escape sweet details tucked in every curve, every twist and turn, and up and down, and round and round you go. He has definitely taken the electronic creativity with the Kaleidoscope graphic software tool to a whole different level, producing extraordinary fine art unlike anything you have ever seen!

Beside his adoration and insatiable enthusiasm for digital creativity, Marlon (the Kaleidoscope King) is fascinated by Architecture, and in this first solo exhibition of his work here at the MODFA ("Journey to the Kaleidoscope King-dom" from December 15 to 31st, 2012) he pays homage to great innovative structural designs all around him. Inter-mixing beautiful colours, lines and texture, Marlon creates new and brilliant pieces of art that are unmistaken am amongst others. Stunning modern art that begs for the viewers attention, and rewards oh so joyfully!
---
Yes! One of my entries hit the finalists page!
---
2012 and Beyond: Charting the Future
In response to the theories and superstitions regarding the "End of Days" predictions by Mayan calendars and Nostradamus in 2012, this exhibition looks to the horizon of the new year and those to come. What if the end of the world is simply a new beginning?

2012 and Beyond: Charting the Future focuses on speculations for the future and exploring worlds, technologies & movements we have yet to create. It approaches science fiction through the lens of speculative fiction, observing technology and environments that evolved from dreams into reality.

How would a still life painting portray life in 2012 or 2022? What will our homes look like? Fashion? Animals? How will spacecrafts be designed? Will Aliens live amongst us? Will humans look the same? What about interspecies offspring?
Incoming Entries: 
 Deadline: March 1, 2012 / Opening: March 15, 2012
---
Infinity Art Gallery's is an international online art gallery. Our mission is to increase the visibility of artists by providing on-going opportunities to showcase their artwork through our online juried exhibitions and artist portfolios. We provide direct access to artists so they can sell their work, and increase their exposure to collectors, galleries, museums and journalists.